In case you missed it, U.S. Senator John Hickenlooper traveled to Colorado Springs, Pueblo, and Florence to talk about expanded veteran health care under the PACT Act and issues critical to Southern Colorado including rural broadband, affordable housing, and infrastructure improvements.
Check out the headlines below:
Colorado Springs Gazette: After denials, PACT Act making a difference for those hurt by toxic exposure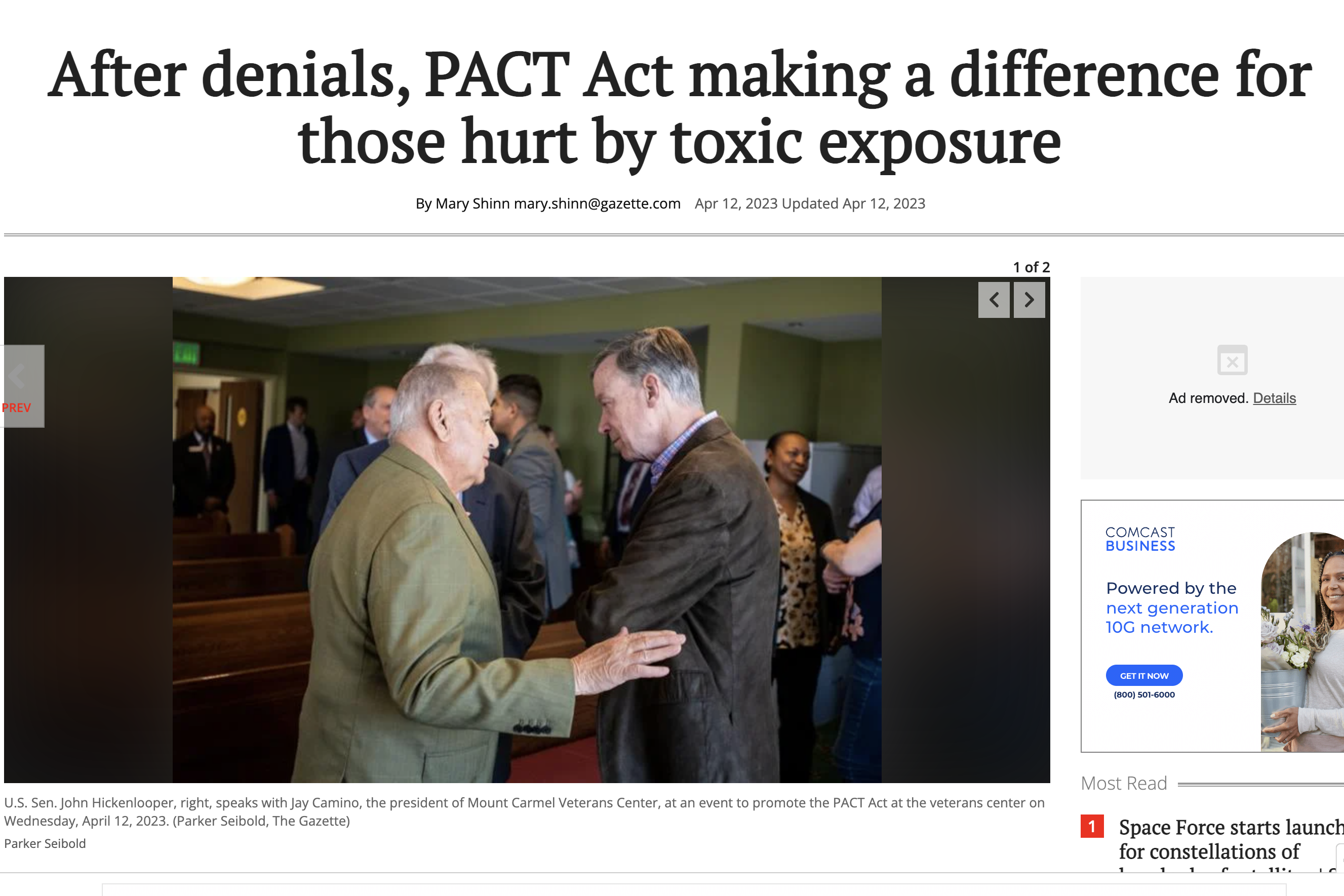 After previous denials, Michelle Hill received an official letter earlier this year from the Department of Veterans Affairs acknowledging her husband's deadly cancer was caused by exposure to toxic burn pits.
"It was saying, 'Yes, your husband's service mattered,'" she said during an event Wednesday at the Mount Carmel Veterans Service Center.
Congressional approval of the Promise to Address Comprehensive Toxics Act, or PACT Act, in August that extended disability benefits and health care to those exposed to burn pits, Agent Orange and other toxins made that acknowledgment possible.
..Hickenlooper underscored the difference that disability compensation can make in the lives of veterans and their survivors to change their lives, saying he would take Hill's story with him to Washington, D.C., as part of his advocacy. "Money is not everything, but it helps," he said.

FOX 21 Colorado Springs: Hickenlooper Talks with Veterans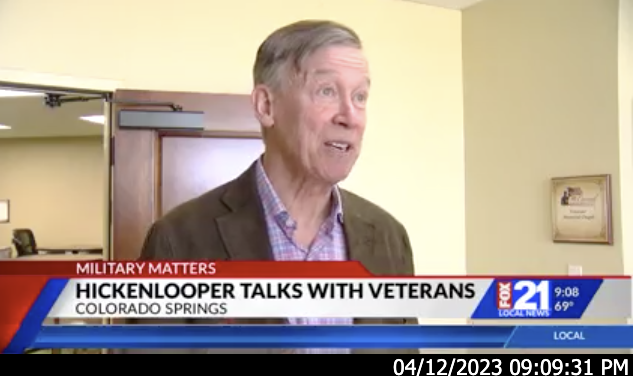 Hickenlooper in CO Springs today to hear directly from local veterans, their families, and veterans services officers. The lawmaker held a roundtable discussion at Mt. Carmel Veterans Services Center. Hickenlooper says the goal was to get the word out about the recently passed PACT Act . The legislation expanded Department of Veterans Affairs healthcare eligibility to more than 3.5 million toxic exposed veterans…
"This is my first step of going around the state and trying to sit down with veterans and really hear their stories and make sure they know and that they're going to tell their friends that this is out there. This is passed, doesn't need to be funded anymore, the resources are there. We just have to get people to sign up for it," said Hickenlooper.
Cañon City Daily Record: U.S. Sen. John Hickenlooper makes stop in Fremont County to meet with local officials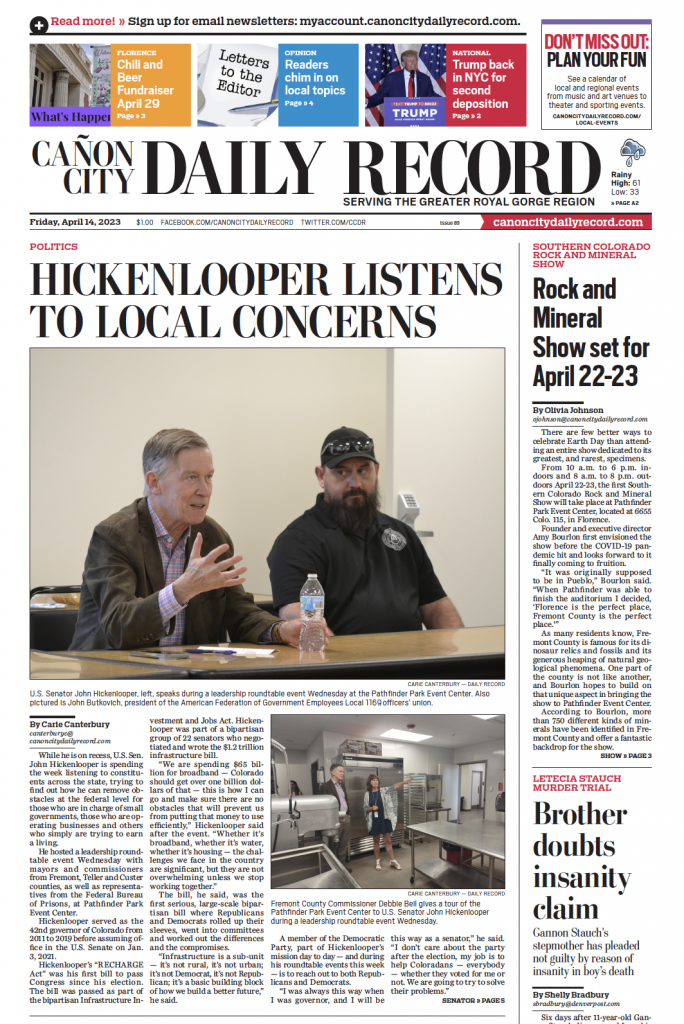 While he is on recess, U.S. Sen. John Hickenlooper is spending the week listening to constituents across the state, trying to find out how he can remove obstacles at the federal level for those who are in charge of small governments, those who are operating businesses and others who simply are trying to earn a living.
He hosted a leadership roundtable event Wednesday with mayors and commissioners from Fremont, Teller and Custer counties, as well as representatives from the Federal Bureau of Prisons, at Pathfinder Park Event Center…
"Infrastructure is a sub-unit – it's not rural, it's not urban; it's not Democrat, it's not Republican; it's a basic building block of how we build a better future," he said…
"I was always this way when I was governor, and I will be this way as a senator," he said. "I don't care about the party after the election, my job is to help Coloradans – everybody – whether they voted for me or not. We are going to try to solve their problems."
Pueblo Chieftain: Hickenlooper, Pueblo officials talk about future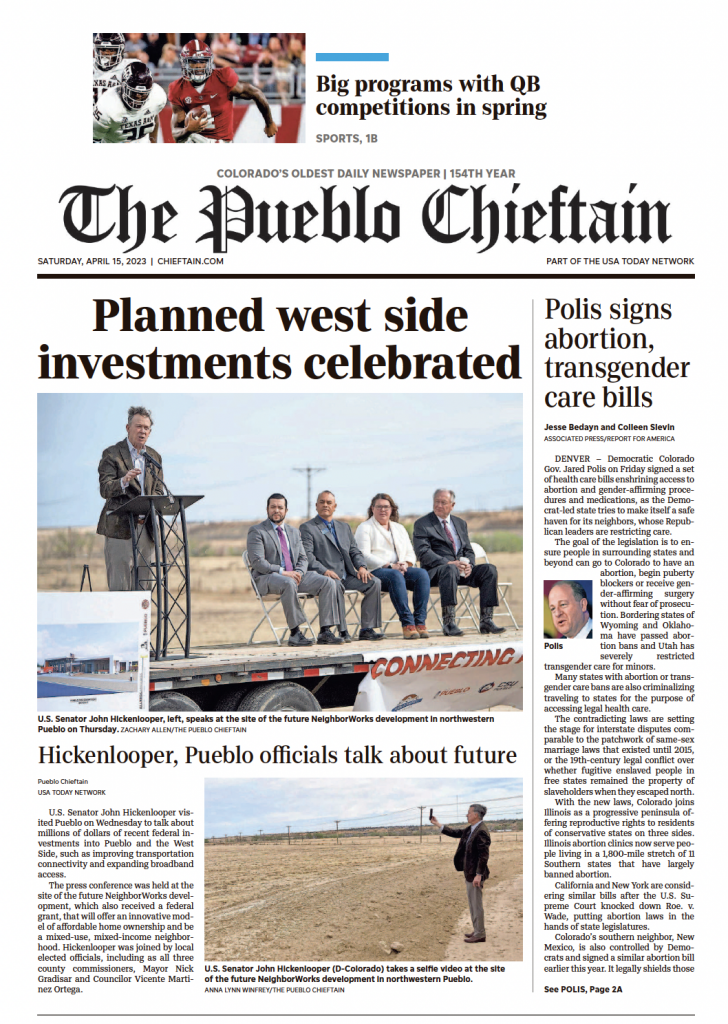 U.S. Senator John Hickenlooper visited Pueblo on Wednesday to talk about millions of dollars of recent federal investments into Pueblo and the West Side, such as improving transportation connectivity and expanding broadband access.
The Press conference was held at the site of the future NeighborWorks development, which also received a federal grant, that will offer an innovative model of affordable home ownership and be a mixed-use, mixed-income neighborhood. Hickenlooper was joined by local elected officials, including all three county commissioners, Mayor Nick Gradisar and Councilor Vicente Martinez Ortega.
11 News: Changes to come to Pueblo after receiving federal funds to 'connect' the city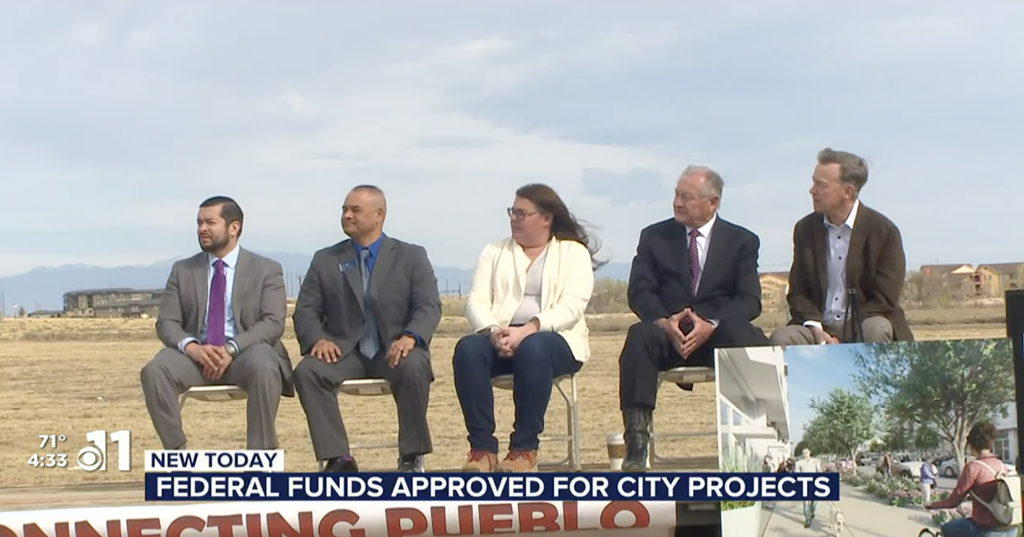 Officials are hoping to bring new resources to the west side of Pueblo using federal funding, in an effort to connect the area to the rest of the city.
Infrastructure improvements–like updates to transportation, increased access to community resources and access to broadband internet–are a large part of the project, which is made up of initiatives that have collectively received about $20 million through a number of grants. Another part of the project is affordable housing, which will be built in a neighborhood off of 24th Street…
"Pueblo has been one of the great cities of Colorado since the beginning, but for the last 25, 30 years, it hasn't gotten the resources I think that would allow it to really begin accelerating," Sen. Hickenlooper said when asked why it was important to get resources to the city.
Sen. Hickenlooper also emphasized that these ideas were those of Pueblo's leadership, and the goal of these grants was to help the people of Pueblo make their ideas a reality.
News 5: Internet service upgrades and affordable housing coming to Pueblo's west side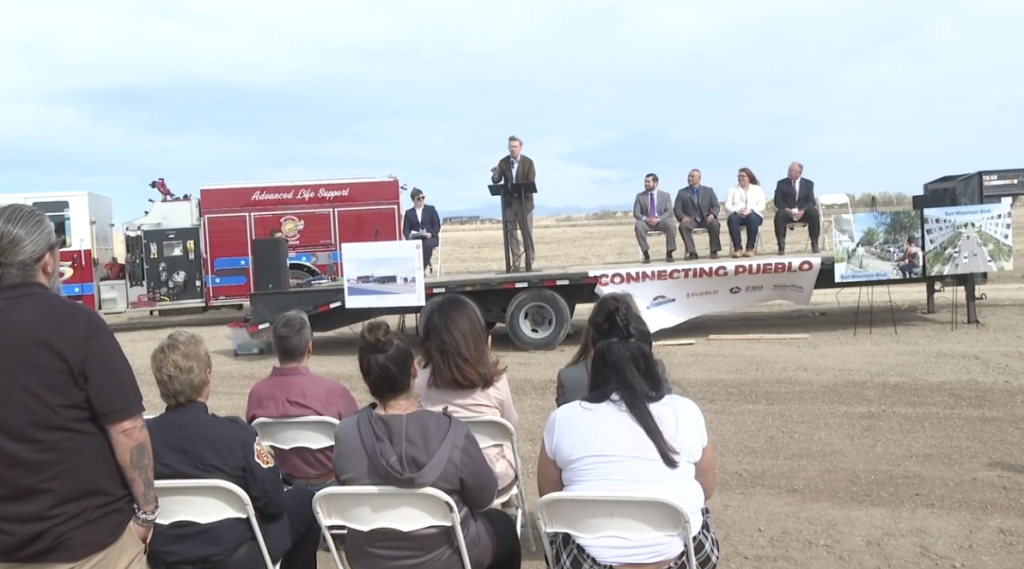 The west side of Pueblo will see some upgrades in the next 20 years. A $20 million dollar investment from the federal government.
Sen. Hickenlooper came to Pueblo to join city leaders at the celebration on Thursday.
Pueblo's west side will see new affordable housing, internet service upgrades, and road accessibility improvements.
"It's exciting," said US Sen. John Hickenlooper. "[We want to] make sure people who are moving to town can actually afford to live here."
###