From Colorado Springs to Loveland, Hickenlooper highlighted how the $1.2 trillion Bipartisan Infrastructure Framework he helped negotiate would help Colorado
In case you missed it, U.S. Senator John Hickenlooper traveled across Colorado's Front Range to discuss how the Bipartisan Infrastructure Framework would benefit Colorado. The bipartisan package, which President Biden supports, would be the largest long-term investment in our nation's infrastructure in nearly a century.
In Denver, Hickenlooper visited a training center for carpenters to discuss how the plan would create good-paying jobs and help restore our nation's roads and bridges.
CBS 4 Denver: Sen. John Hickenlooper Visits Denver Carpenter Training Center As Infrastructure Bill Negotiated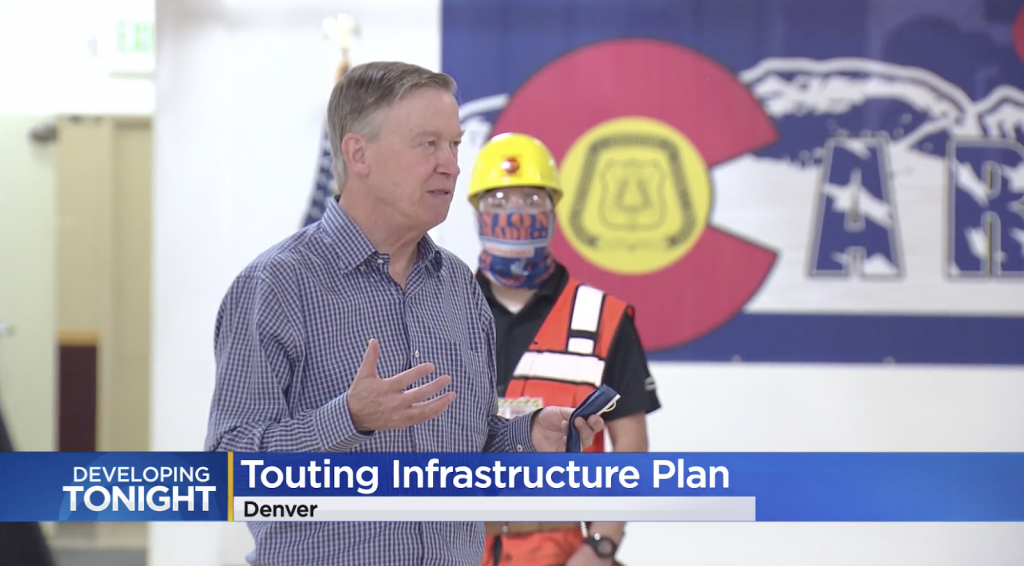 U.S. Sen. John Hickenlooper helped negotiate an infrastructure bill touted by President Joe Biden. Hickenlooper visited a training center for carpenters in Denver on Tuesday as the president toured a transit facility in Wisconsin.
Hickenlooper says the investment in roads, bridges, public transit and high speed internet will be historic.
He was one of 10 senators who helped negotiate the deal.
"This will allow President Biden to move forward with the infrastructure that's going to allow this economy to grow not just in the next decade, but the next 30 or 40 years," he said.
Hickenlooper also says he's working on making sure employers pay workers above the table and when companies compete for bids, the playing field is fair.
Hickenlooper then hit the road to the Eastern Plains, which included a stop at Lincoln Community Hospital and a tour of Xcel Energy's Rush Creek Wind Farm to discuss investing in renewable energy.
The Limon Leader: Senator's Visit
U.S. Senator John Hickenlooper, Colorado's former governor, paid a visit to Lincoln County last Wednesday, June 30. His first stop was Lincoln Community Hospital in Hugo where he met with Kevin Stansbury, its CEO; Rachel Smith, nursing director; hospital board members; Lincoln County Commissioner Steve Burgess and other hospital staff members.
… They also discussed the progress being made on COVID-19 vaccinations. That afternoon, Hickenlooper traveled to Limon where he visited What's the Scoop ice cream store and toured the Wind City development with its owner Roger Guzman. He also met with Limon Town Manager Greg Tacha; Hugo Mayor Lora Bledsoe; Commissioner Ed Schiefflin; Troy McCue, LCEDC executive director; and a number of ranchers, business owners and members of the public.
On Thursday, Hickenlooper visited Akron for a roundtable discussion with County Commissioners from north east and east central Colorado to discuss the oil and gas industry and the transition to clean energy. The Bipartisan Infrastructure Framework is the largest investment in clean energy in American history.
More from the Akron News-Reporter: Hickenlooper makes brief stop in Akron
Hickenlooper also toured a solar garden in Aurora with U.S. Energy Secretary Jennifer Granholm to bring attention to investments the bipartisan infrastructure package would make in the nation's transition to renewable energy.
The Denver Post: Solar power, federal infrastructure funding and Colorado's renewable-energy future
With a number of environmental groups calling for bolder action by the Biden administration on climate change, U.S. Energy Secretary Jennifer Granholm visited Colorado on Thursday to promote the investments a bipartisan bill makes in clean energy and cutting greenhouse-gas emissions.
Granholm's tour with U.S. Sen. John Hickenlooper, D-Colo., of a community solar garden in Aurora comes as much of the West is confronting intense drought, record-breaking heat, historic wildfires and shrinking water supplies. Questions are increasing about the Colorado River's ability to meet the region's expanding needs.
After a drive around the 40-acre solar garden, which ended with one vehicle getting stuck in the muddy, rain-drenched site, Granholm said the bipartisan bill represents major investments in public transit and infrastructure like bridges.
"All of these basic fundamentals that were negotiated, we've got to get that through. And we've got to get the second step through as well, and the second step will include things like the clean energy standard, which is very, very important," Granholm said.
Many states, including Colorado, have standards requiring certain amounts of electricity come from renewable energy.
"Both pieces are very important and both pieces the president is committed to making sure get through to his desk," Granholm added.
Hickenlooper noted the first bill provides tens of billions of dollars for improving the electric grid.
"When we're standing out here looking at this incredible harvesting of solar energy, we need a grid. We need a smart grid," Hickenlooper said.
More from CBS
On Tuesday, Hickenlooper stopped in Colorado Springs to tour the National Cybersecurity Center, which he helped found as mayor in 2016. He met with Mayor John Suthers and leaders at the center to discuss strengthening US defenses against cyber attack and the $47 billion the bipartisan package would invest to make our infrastructure more resilient to cybersecurity breaches.
Colorado Springs Gazette: Hickenlooper: 'We're in a cyber war'
U.S. Sen. John Hickenlooper on Tuesday said he supported taking action against international cybercriminals and the nations that harbor them while touring the National Cybersecurity Center in Colorado Springs.
A cyberattack on Friday was the largest ransomware attack on record, affecting businesses in at least 17 countries. It was yet another example of the kind of threat Hickenlooper was concerned about as Colorado governor.
…
"We're in a cyber war right now, and we don't have acceptable responses for these breaches that we're having to go through," Hickenlooper said. "And that's got to change."
He said he supported taking stronger action against nations, like Russia, that harbor cybercriminals. "You've got to be able to push back," he said.
More from KKTV, KRDO, and Fox 21.
On Thursday, Hickenlooper visited Lyons to speak at the reopening of the Second Avenue Bridge, which was rebuilt to withstand high water levels after the 2013 flood and shows the investment we need to make in our infrastructure nationwide.
Longmont Times-Call: Bridging the past and future: Lyons celebrates reopening of Second Avenue Bridge
…
Hickenlooper, who was serving as governor at the time of the flood, said to those gathered: "Lyons became the model for the entire state of what resiliency could mean. The next time we have a 100-year flood here, this bridge will stand through the whole thing — I guarantee it."
As beads of sweat dripped down the brows of those sitting and standing on the bridge Thursday, with temperatures soaring into the upper 90s, Hickenlooper and several others who spoke said that the natural disaster won't be the last as the world contends with in the aftermath of climate change.
"Everything we are doing should be looking at climate change and what it means," Hickenlooper said. "We had, last year, three of the worst wildfires in the history of the state. Sediments in the Grand Canyon demonstrate that the drought we're in is a 2,000-year-drought."
More from Colorado Politics: Lawmakers applaud bridge reopening
Hickenlooper also traveled to Loveland to tour Lightning eMotors, a commercial electric vehicle (EV) manufacturer. The Bipartisan Infrastructure Package will create a national network of 500,000 EV chargers. Hickenlooper also recently introduced the RECHARGE ACT, which would lower costs for EV drivers.
Loveland Reporter Herald: Sen. Hickenlooper visits Lightning eMotors, discusses future of electric vehicles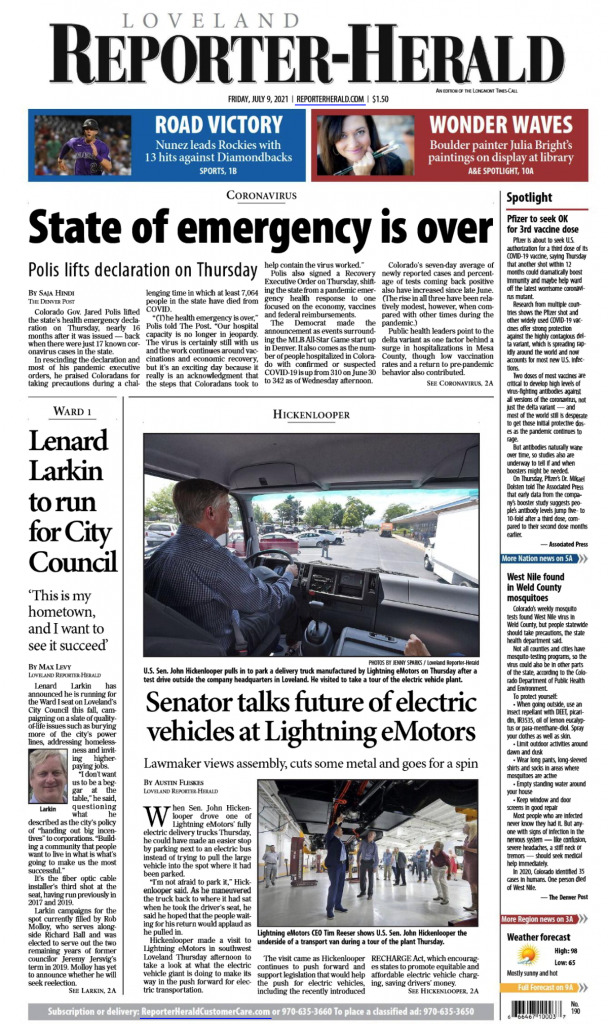 Hickenlooper made a visit to Lightning eMotors in southwest Loveland Thursday afternoon to take a look at what the electric vehicle giant is doing to make its way in the push forward for electric transportation.
The visit came as Hickenlooper continues to push forward and support legislation that would help the push for electric vehicles, including the recently introduced RECHARGE Act, which encourages states to promote equitable and affordable electric vehicle charging, saving drivers' money.
…
After his visit, Hickenlooper said he was not surprised that the nation's biggest manufacturer is in Colorado. He said that it also gives him and others hope that the fight against climate change is not stopping.
"In many ways this is the first time you can stand here and say we have a fighting chance," he said. "We are not always feeling the doom and gloom about climate (change). This is some good news."
Hickenlooper said that the work that Lightning eMotors is doing, a niche that he said they have filled successfully and efficiently, is one of the best ways to push the general public toward understanding and acceptance of electric vehicles.
"A fleet is a way of accelerating the transition, the change to a new world where everything becomes electric," he said. "Clearly one of the things we, as Americans, have to recognize is climate change is real and that we have to address it immediately. If you want to begin that conversion into an electric future, you need to go right away into fleets."
More from Biz West, CBS Denver
###