Secretaries of Interior, Labor, and Transportation visited to highlight funding coming to Colorado
In case you missed it, U.S. Senator John Hickenlooper traveled across Colorado last week with Interior Secretary Deb Haaland, Labor Secretary Marty Walsh, and Transportation Secretary Pete Buttigieg to discuss investments in Colorado's infrastructure and building a next-generation workforce.
Day 1: Department of Interior, Secretary Deb Haaland 
After celebrating passage of a bill to create the Amache National Historic Site, Hickenlooper joined U.S. Secretary of the Interior Deb Haaland in Golden to announce $167 million from the Bipartisan Infrastructure Bill for the construction of a new U.S. Geological Survey (USGS) building to support energy and mineral research. This new facility will be located at the Colorado School of Mines and will house hundreds of students, faculty, and USGS lab staff.
Day 2: Department of Labor, Secretary Marty Walsh
Then, Hickenlooper welcomed U.S. Secretary of Labor Marty Walsh to showcase Colorado's leadership in apprenticeship programs and workforce training.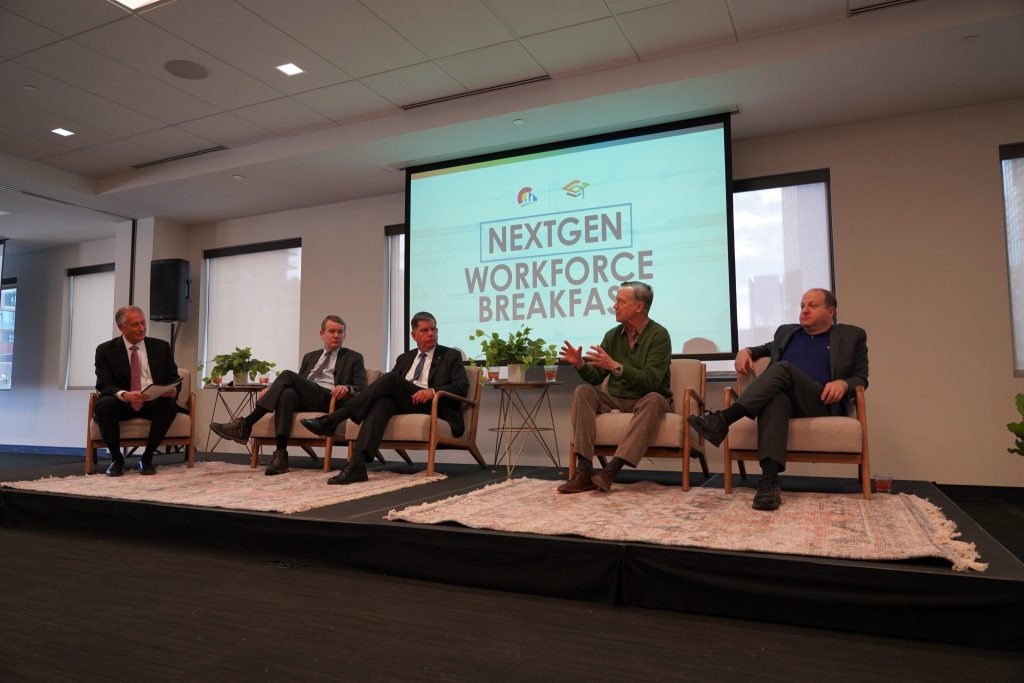 Hickenlooper and Walsh, along with Senator Bennet and Governor Polis, spoke on a panel about apprenticeships and on-the-job training at the Denver Metro Chamber of Commerce. CareerWise Colorado, which Hickenlooper helped start as Governor, is a national model for youth apprenticeship programs.
Next they visited Metropolitan State University of Denver to tour the Advanced Manufacturing Sciences Institute and join a panel discussion with students currently undergoing apprenticeships. At MSU Denver, Secretary Walsh announced a $113 million grant program to support apprenticeship opportunities across the nation. The group also met with Colorado labor leaders.
Days 3-4: Department of Transportation, Secretary Buttigieg
Finally, Hickenlooper hosted Transportation Secretary Pete Buttigieg on a two-day swing through Colorado. They began at Denver International Airport (DIA), where they discussed ongoing DIA projects and infrastructure investments from the Bipartisan Infrastructure Bill.
Then they visited an electric vehicle (EV) carshare at Mariposa Apartments, an affordable housing complex run by the Denver Housing Authority. Colorado is expected to receive at least $57 million for electric vehicle charging from the Bipartisan Infrastructure Bill.
Hickenlooper, Buttigieg, and Bennet were then joined by Polis and U.S. Representative Joe Neguse for a press conference off of I-70 at Floyd Hill. The Bipartisan Infrastructure Bill includes $3.7 billion for Colorado roads, which will help address congestion like that at Floyd Hill.
On Friday, Hickenlooper, Buttigieg, and Bennet headed west to ride a Roaring Fork Transportation Authority (RFTA) electric bus and discuss rural public transit. RFTA is one of the largest rural transit agencies in the country and provides transportation to workers, residents, and visitors in the mountain community.
Lastly, the group toured the damage caused by last year's catastrophic mudslides through Glenwood Canyon, which closed I-70. They discussed the work that's being done to continue restoring the river and surrounding area.