In case you missed it, U.S. Senator John Hickenlooper traveled to Pagosa Springs, Durango, and Ignacio to hear about access to rural health care, expanded veterans benefits under the PACT Act, and issues critical to Southwestern Colorado including economic development, affordable housing, and infrastructure improvements. 

Check out the headlines below: 
Southern Ute Drum: Colorado Ute tribes meet with Senator Hickenlooper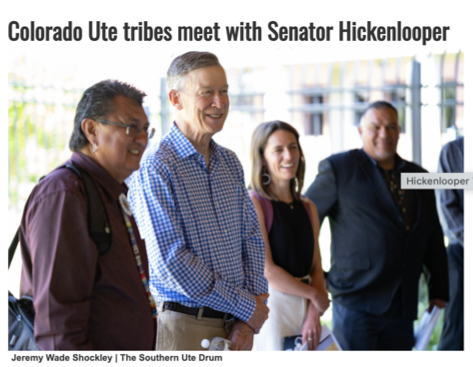 The Southern Ute and Ute Mountain Ute Tribal Councils met with U.S. Senator John Hickenlooper (CO) at Southern Ute Tribal Headquarters, Thursday, June 29, to discuss the importance of broadband to the Reservation and plans to mitigate the Digital Divide.
"We are deeply appreciative of Senator Hickenlooper's commitment to engaging in open dialogue and frequent visits," said Southern Ute Tribal Chairman, Melvin J. Baker. "His support on our reservation is essential to ensuring that our students, businesses, and residents have access to the resources they need to succeed." This strong relationship stretches back to Senator Hickenlooper's terms as Governor.

Durango Herald: Hickenlooper says extreme agendas are hurting attempts to pass logical legislation
U.S. Sen. John Hickenlooper expressed frustration with the division in the U.S. Senate during a town hall Wednesday at the Powerhouse Science Center. After a brief opening statement recognizing local elected officials and educators, the nearly 100 attendees fired away questions at the senator. Many were met with a similar response: division in the Senate prevents progress.
Pagosa Springs Sun: Hickenlooper visits Pagosa Springs, hears about local issues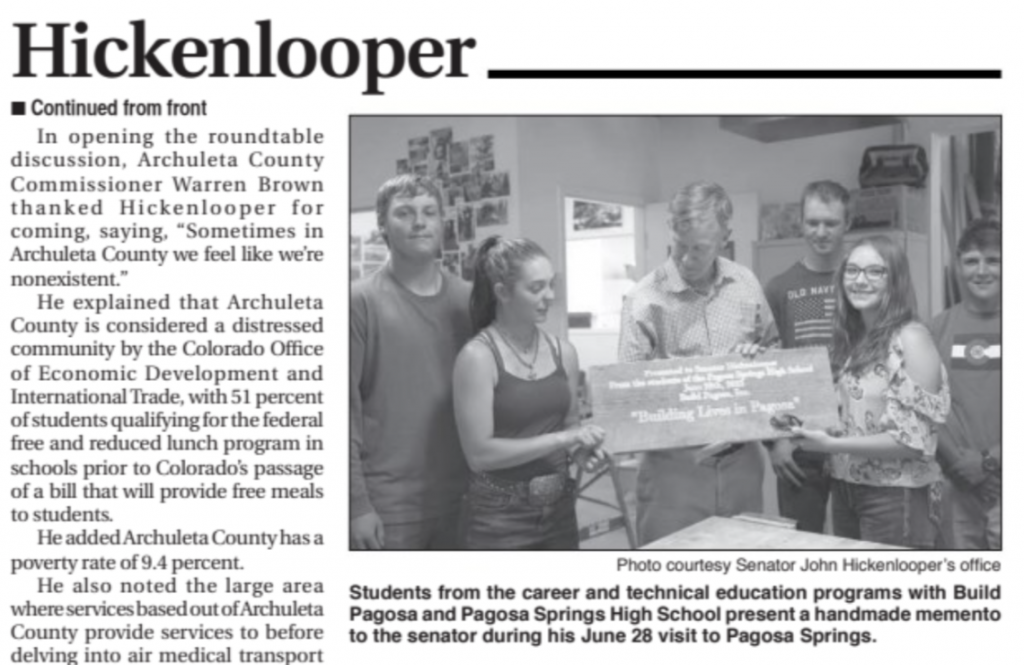 Sen. John Hickenlooper (D-CO) visited Pagosa Springs the afternoon of June 28 to participate in a pair of roundtable discussions focusing on health care, workforce, community needs, and education. 
The discussions were two of several Hickenlooper held in Southwest Colorado last week.
"Unless you're there and you hear the story face-to-face, when you tell that story to other senators, you won't be as convincing," Hickenlooper said of his days in the area.
… Hickenlooper's visit began at Pagosa Springs Medical Center, where he toured the facilities before meeting with the PSMC staff and Archuleta County Commissioner Warren Brown, among others. There the focus was on rural health care and potential impacts of draft bills and approved programs on Archuleta County.
In opening the roundtable discussion, Archuleta County commissioner Warren Brown thanked Hickenlooper for coming, saying, "Sometimes in Archuleta County we feel like we're nonexistent."

Pagosa Daily Post: Senator Hickenlooper Comes to Pagosa Springs, Part One
U.S. Senator John Hickenlooper and a half dozen of his staff arrived at the Pagosa Springs Medical Center right on time, at 1pm Wednesday, and were greeted by Medical Center CEO, Dr. Rhonda Webb, and a few of the hospital staff, including Rhonda Webb's husband, Dr. Bill Webb, who is employed as an orthopedic surgeon there.
…It's not every day a U.S. Senator visits the Pagosa Springs Medical Center, which opened its doors in 2008 — having been converted from a modest medical clinic into a 'critical access hospital'.  This may have been, in fact, the first time any U.S. Senator has toured the facility, and heard about the struggles of running a hospital in a rural corner of Colorado.
Durango Herald: La Plata County veterans encouraged to apply for PACT Act benefits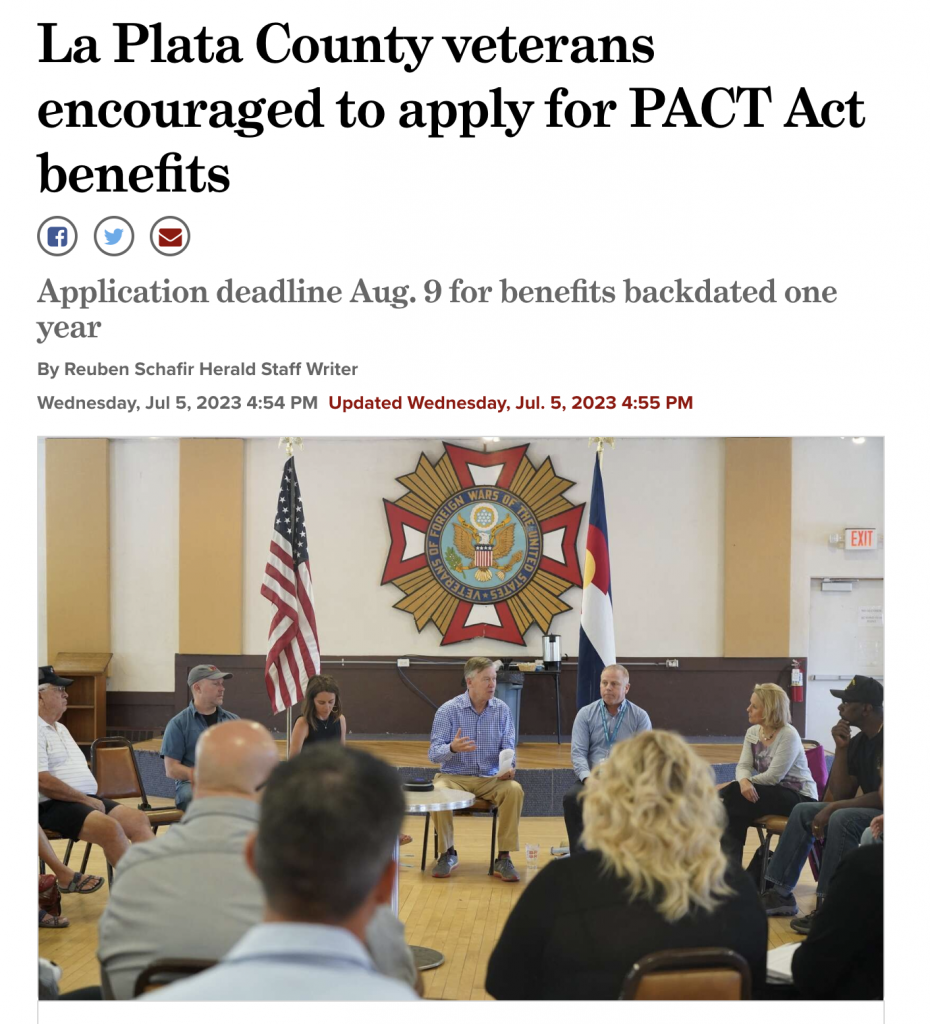 Colorado Sen. John Hickenlooper held a roundtable at the Veterans of Foreign Wars Post 4031 last week in Durango to spread the word about benefits for veterans exposed to toxic substances.
Veterans and their surviving family must apply by Aug. 9 to receive benefits dating back to Aug. 10, 2022, the day the The Promise to Address Comprehensive Toxics Act was signed into law.
###