This week, U.S. Senator John Hickenlooper visited Grand Junction, Rifle, Craig, and Steamboat Springs to discuss top of mind issues in Western Colorado and celebrate federal investments in infrastructure, affordable housing, water conservation, and climate resilience coming to the area. 

In Grand Junction, Hickenlooper celebrated federal funding from the Bipartisan Infrastructure Law for a new runway project at the Grand Junction Regional Airport and hosted a town hall to hear from constituents.

Hickenlooper traveled to Rifle to tour the Habitat for Humanity Wapiti Commons site, an affordable housing development for which he helped secure $1.2 million in federal funding. In Craig, Hickenlooper held a roundtable discussion with small business leaders and the Craig Chamber of Commerce. During the visit, Hickenlooper helped break ground on the Community Kitchen Small Business Incubator, another project Hickenlooper secured federal funding for.

Hickenlooper then headed to Steamboat where he held a town hall to discuss issues ranging from the country's transition to renewable energy to immigration reform. He also convened local leaders at a roundtable discussion on wildfire prevention and management, and spoke about bipartisan water conservation efforts at the Colorado Water Congress summer conference.

Check out the coverage below: 

The Daily Sentinel: Runway Rundown: Sen. Hickenlooper stops by airport project
U.S. Senator John Hickenlooper was in Grand Junction Monday to announce $13.5 million in funding for Grand Junction Regional Airport from the Federal Aviation Administration's Airport Improvement Program.

Hickenlooper toured the airport's ongoing runway project, which is in the thick of the earthwork portion of the construction. Trucks sped around the site, kicking up dust as Hickenlooper spoke about the runway funding. He said the federal government could get more "bang for the buck" by funding infrastructure projects in smaller, rural communities like Grand Junction.

"When you look at the history of development in the West you always see the smaller communities get overlooked on infrastructure," Hickenlooper said. "The bigger cities basically clear the table. They're the ones that get the new runways. They get the latest technology in terms of instrumentation. I'd argue that's got to change now."

The entire $150 million project is scheduled to be completed in 2030, but has been in the works for years, director and CEO of the Grand Junction Regional Airport Angela Padalecki said. The funding announced Monday represents a big milestone for the project, she said.

Grand Junction News 8: Senator John Hickenlooper hosts town hall meeting in Grand Junction

Early in the afternoon on Monday, Senator Hickenlooper toured Grand Junction Regional Airports new Runway Project with Mayor Anna Stout and other local officials. Earlier this Summer, Hickenlooper announced more than $13 million in new funding for the project through the Federal Aviation Administration's Airport Improvement Program. Hickenlooper says as of July 2023, the FAA's AIP gave more than $87 million to support Colorado Airport Improvement Projects.
Later that day, he hosted a town hall meeting…
One resident asked the Senator what would be done to tackle the growing issue mental health providers are facing when it comes to making enough money to keep their businesses open. The man said in person providers could not compete with telehealth, despite the high importance of in person care for individuals with Bi-Polar, Schizophrenia, and other potential high needs illnesses. His practice is struggling to keep doors open, and says patients can't pay more than what they already are. He said, "We're dying. In person therapy is not going to last in the next ten years."
Hickenlooper said this was the first time the issue had been presented to him, but feels like change is coming.
Colorado Newsline: Hickenlooper, now a big fan of Senate, talks up green policies at Grand Junction town hall

During his opening remarks during an Aug. 21 town hall in Grand Junction, U.S.Sen. John Hickenlooper of Colorado set the record straight regarding his thoughts on being a senator — it's a departure from how he viewed the job in 2019, when he was reported as saying he wasn't "cut out" to be a senator. "Much to my surprise, I love being in the Senate, where I used to say good ideas go to die," Hickenlooper told the crowd of 100-plus people who came to listen and ask questions during the event at Colorado Mesa University. "I think it's coming around. I think it's savable. There are a lot of good people — Republican and Democrats, that once the election is over are willing to reach across the aisle and find solutions to some of our most vexing problems. I really enjoy it. It's a completely different job than being governor, or a mayor."
Hickenlooper, a Democrat, was previously the mayor of Denver and then the governor of Colorado.
…"The last two-and-a-half years we've gotten more bipartisan bills of substance done than any two-year period in the last 50 years," he said, citing the Bipartisan Infrastructure Law, which includes $65 billion for high-speed internet throughout the nation, and the CHIPS(and Science) Act, which the senator said stimulates manufacturing in America and reestablishes technology dominance.

Post Independent: Sen. John Hickenlooper praises Wapiti Commons during Tuesday visit to Rifle

As the housing pinch tightens in Western Colorado, U.S. Sen. John Hickenlooper underscored the importance of local housing initiatives during a Tuesday visit to the Wapiti Commons housing project in Rifle. "I'm impressed with Habitat for Humanity and their work all over Colorado," Hickenlooper said.
"People working throughout this state should be able to rent or buy a home." A Dec. 20 announcement added fuel to the housing momentum, with Hickenlooper celebrating the $178.3 million earmarked for Colorado projects in the 2023 federal budget. With his efforts, a solid $129.3 million was secured for 94 projects.
Wapiti Commons, located in the heart of the housing crunch, is slated to receive $1.2 million. A project costing about $9 million, minus the land, which came as a donation from Basalt-based developers Clay Crossland and Paul Adams, the project will feature 10 townhomes as well as 10 condominiums.

Aspen Public Radio: Sen. Hickenlooper visits Wapiti Commons project in Rifle, talks affordable housing in Colorado

Colorado's junior U.S. senator, Democrat John Hickenlooper, was in Rifle on August 22 to check out Wapiti Commons, an affordable housing project built by Habitat for Humanity Roaring Fork Valley. He toured one of the townhomes nearing completion, and learned about Habitat's home ownership program. Hickenlooper secured $1.2 million from Congress last year for the project, which includes 10 for-sale townhomes meant for working families, and 8 accessible condos for older adults.

Craig Press: Sen. Hickenlooper visit marks groundbreaking for upgraded Yampa Building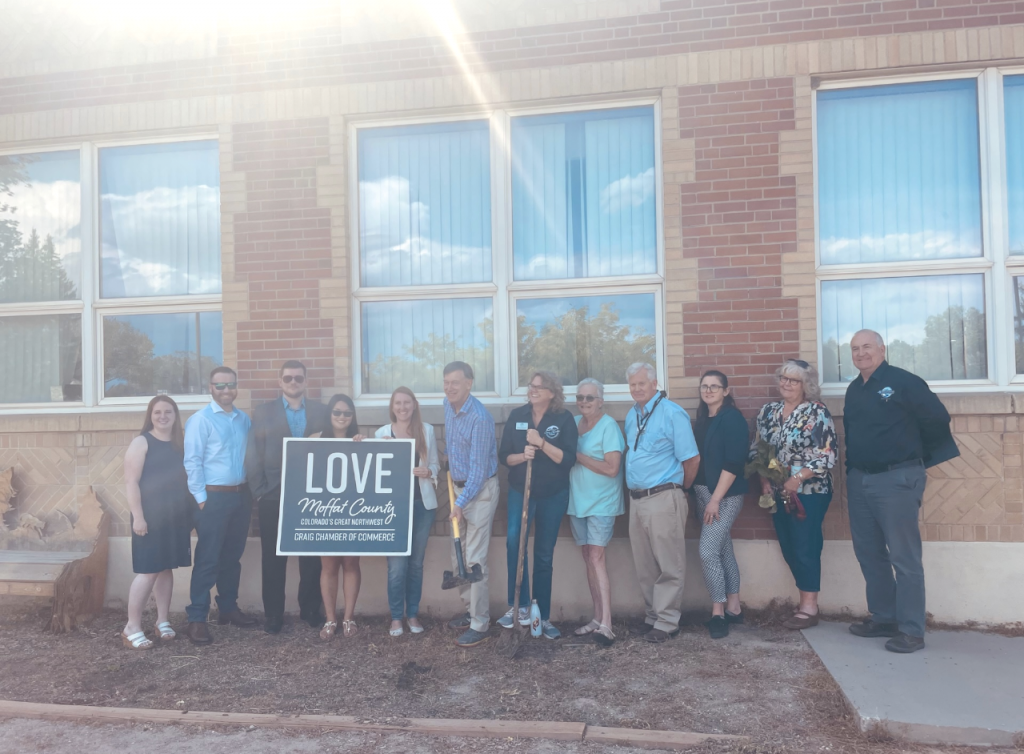 Sen. John Hickenlooper visited Craig on Tuesday for a groundbreaking ceremony at the Yampa Building. Hickenlooper and Sen. Michael Bennet sponsored a $500,000 congressional grant that will fund upgrades to the building, including a new commercial kitchen and lift access to the second floor. Hickenlooper spent the late afternoon at the Yampa Building. Prior to the groundbreaking, he was given a guided tour and then took part in a small business roundtable.

Craig Press: Small biz meets with senator
On Aug. 22, the Craig Chamber of Commerce hosted a small business roundtable with Sen. John Hickenlooper.
Hickenlooper was scheduled to be in town for a groundbreaking ceremony for the Chamber's community kitchen small business incubator and ADA upgrades. Prior to the visit, his office reached out to the Chamber to see about the possibility of adding a roundtable discussion to the event schedule…
Local realtor Brandi Meek, owner of 2019 Storage, started the conversation by recalling the astonishing amount of red tape that prospective small business owners are required to traverse in order to start a business in the first place. Hickenlooper agreed that the current load of requirements can be daunting and needs to be re-evaluated. He reminisced to the group that he himself was once part of the small business sector, and his hope would be to make the start-up process "as friction-less as possible" for future entrepreneurs.

…Senator Hickenlooper helped the Craig Chamber break ground on the new construction on the Yampa Building thanks to a $500,000 congressional spending grant. There will be a commissary style kitchen, elevator, and bathroom remodel. It should be finished in the spring.
Senator Hickenlooper then went on to Steamboat Springs last night for a Town Hall at CMC.Senator Hickenlooper acknowledged a divide between urban and rural areas of our country. He said bills don't always support the rural communities. As for Ukraine, he says he is "all in."
Steamboat Radio: U.S Senator Hickenlooper Speaks on Fire Mitigation 

Senator John Hickenlooper held a roundtable hosted by Steamboat Fire Chief Chuck Cerasoli, and other local officials about fire mitigation in the region. Those included were from the Routt County Wildfire Mitigation Council, Routt County Climate Action Collaborative, Upper Yampa Water Conservancy District, and the U.S. Forest Service. It was a discussion on a fire adapted future for Colorado and the west.
Senator Hickenlooper says he learned how well the region works together as far as fire mitigation, building back healthy forests and forest resiliency and how the community is coming together to make sure people can insure their mountain homes in case of a fire.
"These kinds of things come out of a meeting like this… My job is to go back and get some resources and try to solve the problem, again with all the people today that were here helping us." Hickenlooper says there is nothing partisan about this, and that both sides need to work together.
Colorado Politics: Colorado's Bennet, Hickenlooper vow to protect water conservation funds
Colorado's two U.S. senators discussed water, the farm bill and transparency around federal funding following their appearance at the Colorado Water Congress on Wednesday, saying one of their primary goals is to protect money for conservation and forestry…U.S. Sen. John Hickenlooper said he, too, has priorities for the farm bill, particularly what it could achieve for Colorado farmers. Too many of the incentives and subsidies go to large corporations, saidHickenlooper. 
Additionally, he'd like to see more money for broadband directed to rural communities, including for farmers and ranchers, he said. Hickenlooper said what amazes him is that the U.S. Department of Agriculture has become much more aggressive about looking at the overall economy of agricultural communities via broadband, workforce training or even housing. He pointed to Tom Vilsack, the agriculture secretary, who is a regular visitor to Colorado, and said the federal official gets that Colorado is a good test case on a variety of matters, such as farm-to-table issues and protecting small and medium-sized farming and ranching operations.
…Both Hickenlooper and Bennet addressed the role of the 30 tribes of the Colorado River basin that are advocating for a permanent seat at the table on water renegotiations.
Colorado Politics: Colorado's federal lawmakers touts water progress and challenges
Bipartisanship was the buzz word on Wednesday as Colorado's federal lawmakers visited the Colorado Water Congress in Steamboat Springs. Both U.S. Sens. Michael Bennet and John Hickenlooper touted the funding coming from the bipartisan Infrastructure Act signed by President Joe Biden a year ago, and some of the projects that will benefit from that funding.
…Hickenlooper focused his remarks on the bipartisan group of Western senators known as the Colorado River caucus. He spoke about the effort he and Bennet have been working on over the last year, and the impact of aridification on their work. Shortly after the first meeting, the full effects of the massive continuing drought became apparent, Hickenlooper said.
Aspen Daily News: Increased attention on issues evident at Colorado Water Congress
The Colorado Water Congress annual summer conference in Steamboat Springs this week saw its largest-ever attendance. Speakers said the event's size reflects a growing public attention to water as climate change and population growth put pressure on the state's water resources.
The Water Congress, perhaps Colorado's most significant annual meeting on water, gathered about 480 people this year, including speakers and exhibitors. Participants included federal and state lawmakers, irrigators and other water managers from across the state. The conference ran from Tuesday to Thursday.
"They've told me this is the largest [water congress] ever, and that's a reflection of how serious this situation has gotten," said U.S. Sen. John Hickenlooper, who spoke at the conference on Wednesday.
Steamboat Pilot & Today: Water Congress conference emphasizes collaboration, cooperation, urgent need to address Colorado water issues
Colorado's congressional delegation came together in a panel at the annual summer Colorado Water Congress conference in Steamboat Springs this week highlighting that elected leaders in Colorado are working toward solutions regarding critical water supply issues.
Rep. Joe Neguse, who represents the second congressional district including Routt County, Rep. Lauren Boebert as well as Senators John Hickenlooper and Michael Bennet discussed the importance of Colorado River water as a national-level concern. 
…Hickenlooper pointed out that this week's Colorado Water Congress conference is the largest ever and "that's a reflection of how bad the situation has gotten."
Neguse, Hickenlooper and Bennet used the word "we" repeatedly in their short remarks focusing on the importance of cooperation in complicated water issues. The four elected officials listed Colorado water projects that garnered millions of dollars in federal funds.
Colorado Times Recorder: No Sparks Fly Among CO Politicians on Panel at Water Conference
STEAMBOAT SPRINGS – Colorado Senators John Hickenlooper and Michael Bennet, both Democrats, and U.S. Representatives Lauren Boebert (R-CO) and Joe Neguse (D-CO), all but held hands Wednesday to sing Kumbaya about Colorado water issues and solutions.
…There wasn't a word of disagreement among the senators and representatives – despite the presence of Republican firebrand Boebert, who has consistently downplayed the threat of climate change and blocked efforts to address it. Everyone emphasized the value of communication and cooperation to protect Colorado water, agriculture, and forestry.
The former governor and now junior senator of Colorado, Hickenlooper said a wet winter and spring do not constitute full drought recovery. Many more years of extra wet precipitation would be required to make serious recovery from the long-term drought, he said.
Fortunately, Congress and President Joe Biden passed the Inflation Reduction Act (IRA) last year, with huge wins for Colorado and the Colorado River Basin, said Hickenlooper.
CBS Grand Junction: Colorado Water Congress
###