Hey Folks!
We just capped off a great trip across the Western Slope. Nothing beats getting on the road, visiting our state's cities and towns, and hearing directly from Coloradans about the issues most important to them. Here's a recap:
More Town Halls!
We hosted not one, but TWO town halls in Grand Junction and Steamboat Springs. It was wonderful to have the opportunity to answer your questions and provide updates to what we've been up to in Washington. If you still have something on your mind, you can reach us here!
Investing in Colorado's Infrastructure
Smaller airports are a lifeline to Western Colorado. That's why we're over the moon that $13.5 MILLION from our Bipartisan Infrastructure Law has made its way to Grand Junction Regional Airport. We got a chance to tour the ongoing runway project there and see how this funding is going to help.
Preserving Our Water
In Colorado, life is written in water – and ensuring we make the most of what we have will be vital to the future of our state. We were honored to speak at the annual Colorado Water Congress conference to discuss this topic and ways we can work together to find commonsense solutions.
Building More Affordable Housing
All across Colorado, affordable housing is top of mind. We got the chance to tour the new Wapiti Commons housing project in Rifle to see how this community is tackling the issue head on. Our office helped secure funding for this initiative, and we were thrilled to see it all coming together!
Growing Our Small Business Community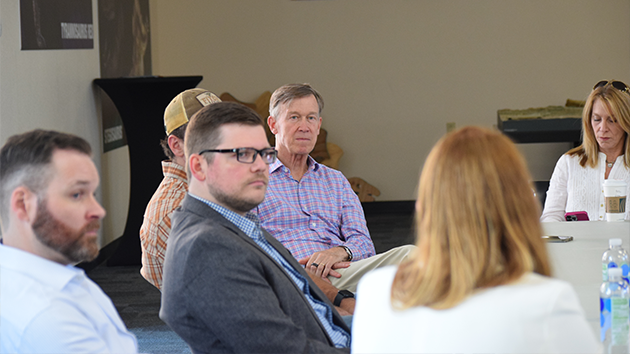 Colorado's network of innovators and entrepreneurs are among the most productive in America, so we sat down with small business owners in Craig to talk about growing our local economies and creating more opportunities for businesses of every size. Needless to say, this former small business owner had a lot of thoughts! 🤠
Preventing the Next Disaster
It's no secret wildfires in Colorado are becoming more frequent and more severe – and finding ways to prepare for that new reality is critical. We joined leaders in Routt County to talk about all the ways government can partner with local communities as we work to preserve the West.
Speaking directly with Coloradans is the most important part of this job, and it's an honor to be your voice in Washington. Thanks to everyone who came out to see us.
Until next time!
Senator John Hickenlooper
Not signed up for our Giddy Up-date email newsletter? You're missing out! Sign up HERE!