Folks, we just celebrated a BIG milestone! This week we marked the two year anniversary of our historic Bipartisan Infrastructure Law! With shovels already in the ground, over $5.6 BILLION in projects have been announced for Colorado so far – with much more to come!
In the two years since it passed, our Bipartisan Infrastructure Law has kickstarted projects all over the state to:
Improve key roads and bridges, like the CO-119 Diagonal Highway Mobility Project
Expand affordable and high-speed internet to EVERY household
Deliver clean drinking water to underserved communities, including finally completing the Arkansas Valley Conduit project
Modernize airport infrastructure at airports across Colorado
And so much more!
To see just how much of an impact these projects are having all over Colorado, check out this interactive map and some featured projects below! 
Repair Essential Highways and Bridges, Enhance Safety
Last month, we broke ground on the CO-119 Diagonal Highway Mobility Project, one of the many infrastructure projects announced to improve roads and bridges across Colorado. The critical, multimodal project, which received $25 million in funding from our Bipartisan Infrastructure Law, will add a Bus Rapid Transit route, queue bypass lane, and bikeway along the primary highway between Boulder and Longmont to help serve and improve safety for the over 45,000 vehicles per day that transit the road. 
Groundbreaking of CO-119 Diagonal Highway Mobility Project in Longmont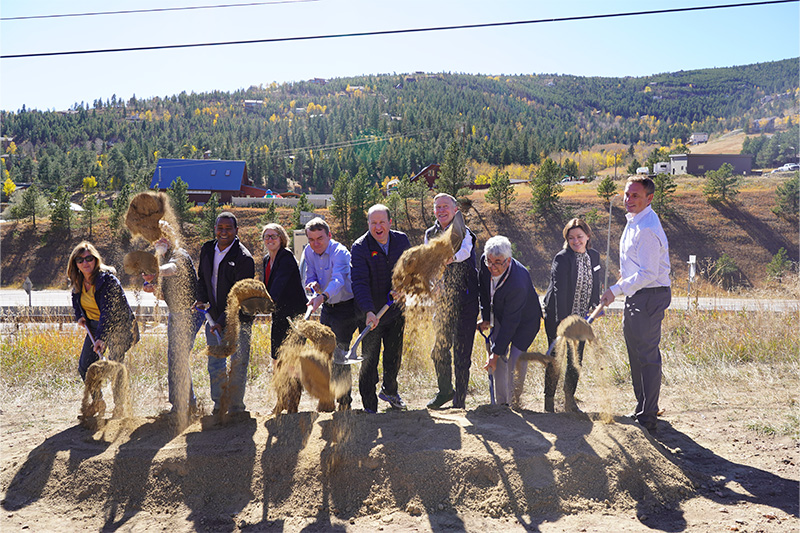 Groundbreaking of the I-70 Floyd Hill Project!
Expand High-Speed Internet to EVERY Household
While we were writing the Bipartisan Infrastructure Law, we knew that it should include ALL infrastructure, including broadband that meets our digital age. Last century we connected every house to electricity, and this century we're connecting every household in America to high-speed internet.
And we've made amazing progress – Colorado has already received over $826.5 million to provide access to reliable internet, including in Tribal communities!
YOU and your family can also save on internet costs through the Affordable Connectivity Program. If eligible, you can receive high-speed internet for $30/month or less. Visit getinternet.gov for more information.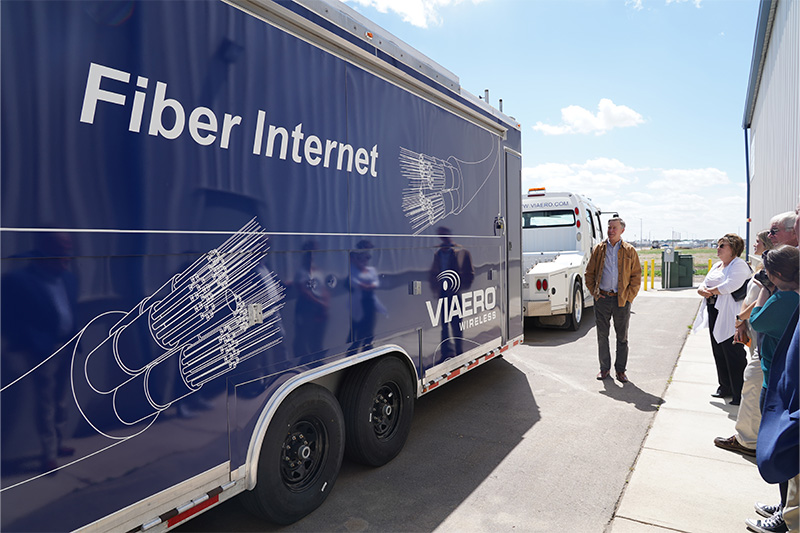 Visiting Viaero Wireless in Fort Morgan, one of the providers in the Affordable Connectivity Program! 
Deliver Clean Drinking Water to Underserved Communities, Fulfill Decades-Old Promises
Earlier this year, we broke ground on the Arkansas Valley Conduit, a major water infrastructure project that will deliver clean drinking water from the Pueblo Reservoir to almost 40 rural communities and 50,000 Coloradans in Southeast Colorado when complete. The project received $160 million from our Bipartisan Infrastructure Law and will expedite the construction timeline for the Conduit – the final phase of a SIX DECADE long project that President Kennedy announced in 1962. 
Breaking ground on the Arkansas Valley Conduit in Pueblo! 
Upgrade our Airports to serve as Gateways to Our State
In August, we visited Grand Junction Regional Airport to announce $13.5 million to help construct a new runway.
And the fun doesn't stop at GJT: $283 million from our Bipartisan Infrastructure Law has been announced for improvement projects for airports across Colorado. From Denver International Airport (the 3rd busiest airport in the world) to the San Luis Valley Regional Airport in Alamosa, this funding will modernize terminals, expand taxiways, and enhance safety.
Grand Junction Regional Airport's runway project made the front page of The Daily Sentinel. Exciting! 
Even in such a short time, our Bipartisan Infrastructure Law is already transforming our state and will continue to make Colorado the best place to live, travel, do work, and raise a family.
Cheers to even more projects and billions of dollars in additional funding coming to Colorado!
Senator John Hickenlooper
Not signed up for our Giddy Up-date email newsletter? You're missing out! Sign up HERE!