Hey folks!
As you probably remember, we got quite a bit done in Washington last Congress. From historic infrastructure investments to expanded health care access, there's a lot to be proud of.
And now, cities and towns across the state are beginning to reap the benefits. So we swung through Southern Colorado to talk with folks on the ground and hear about how their communities are taking advantage of these new laws. 
In the wake of the Club Q shooting in Colorado Springs, public safety is top of mind for Coloradans. Last year Congress made serious investments in behavioral health and community support to reduce these violent acts, but more has to be done – like expanding background checks and banning assault weapons. 
In El Paso County, 25% of residents are veterans – and they're finally getting the benefits they've earned. At Mt. Carmel, we saw firsthand all the ways folks are taking advantage of our PACT Act, which expands VA health care and benefits to veterans exposed to burn pits and other toxic substances.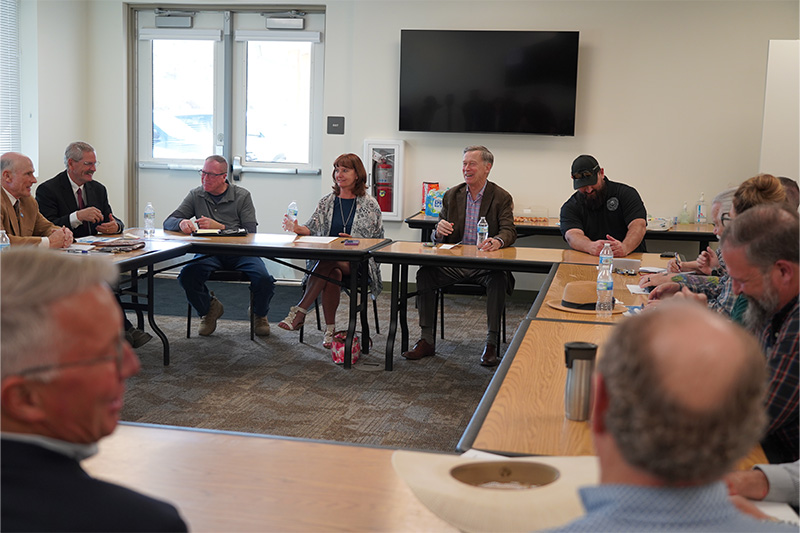 In Fremont County, community leaders are taking action to fight back against climate change, create more opportunities for small businesses, and expand rural health care access – and we're eager to help them get their hands on the federal dollars that will do just that. 
And residents in Pueblo are about to see significant improvements to roadways, internet connection, and access to affordable housing thanks to federal investments and our Bipartisan Infrastructure Law. New opportunities are coming to residents all across Southern Colorado, and we can't wait to watch this community grow!
Getting out on the road and talking to Coloradans is one of the most important – and more rewarding – parts of this job. We'll be taking all your thoughts and concerns back to Washington with us – and don't hesitate to reach out to our office anytime. Giddy up!
Senator John Hickenlooper
Not signed up for our Giddy Up-date email newsletter? You're missing out! Sign up HERE!